This blog post has been published on 2011-01-23 and may be out of date.
moonOS ist eine auf Ubuntu 10.10 basierende Linux Distribution, in der neusten Version 4 namens "NEAK" wurde "E17" durch "Gnome" ersetzt. (habe bisher jedoch nur eine 32-Bit Version gefunden)
Wenn man die Live-CD startet, fällt das Design und die geänderte Verzeichnisstruktur als erstes auf, aber dazu kommen wir gleich. :-)
Von Anfang an findet man sich zurecht, was daran liegen könnte, dass es noch immer ein "Ubuntu"-System ist: Auch wenn "Docky" das untere Gnome-Panel ersetzt und ein neues Gnome-Theme (Clearlooks Revamp) installiert wurde.
Was ich persönlich sehr schön finde ist, dass nicht viele Programme Vorinstalliert sind, man jedoch sofort MP3 hören, Video schauen etc. kann. Zudem sind bereits ein paar Programme installiert, welche ich bei Ubuntu ebenfalls nachinstalliert habe: Nautilus Elementary als Dateimanager, Gloobus Preview als Vorschau-Programm für Bilder, Musik und Videos.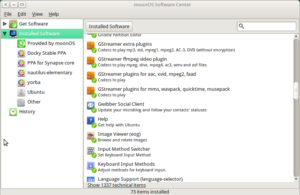 MoonOS-Quellen:
deb http://moonos.linuxfreedom.com/moonos neak main upstream
deb-src http://moonos.linuxfreedom.com/moonos neak main upstream
Wie bereits erwähnt wurde die Verzeichnisstruktur angepasst, so dass Neueinsteiger sich besser zurecht finden sollen, zudem kann man die Dateien jedoch auch über die alte Verzeichnisstruktur erreichen. Im Grunde sind die Verzeichnisse wie bei "Mac OS X" angeordnet (z.B.: mount –bind" (ex. mount –bind /usr/bin /System/Excutables).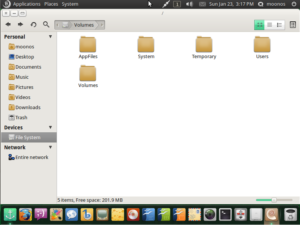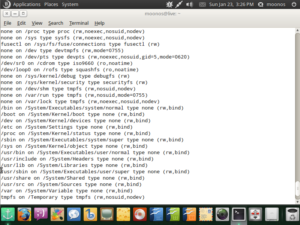 Außerdem wartet MoonOS mit "AppShell" (Applications Framework) auf, was eine Eigenentwicklung von MoonOS ist, leider jedoch nicht richtig funktioniert: Es gibt momentan nur 3 Programme (Cheese, GIMP & Pidgin), welche dieses Framework nutzten, so dass auch nur diese unter "/AppFiles" angezeigt werden.
Fazit: Ubuntu in grün + der Versuch einige Funktionen von Mac OS X zu integrieren. :-)