This blog post has been published on 2011-01-18 and may be out of date.
Ich hatte bereits einmal über das Thema "Ports via ssh weiterleiten" geschrieben, um z.B. pop3 oder smtp verschlüsselt zu nutzen. Heute zeige ich aus aktuellem Anlass, wie man mithilfe SSH einen transparenten Proxy im Netzwerk umgehen kann. Im Studentenwohnheim (Krefeld) ist jemand auf die glorreiche Idee gekommen alle Webseiten auf denen Filesharing betrieben werden kann, zu sperren.
z.B.: www.dropbox.com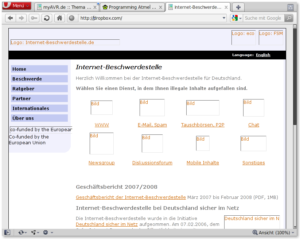 (Tipp: mit "Alt" + "Druck" bekommt man einen Screenshot vom gewählten Fenster)
1.) Tunnel auf dem Client zum Server erstellen
Der folgende Befehl erstellt einen Socks kompatiblen Proxy per SSH-Tunnel. Wie im anderen Blog-Post beschrieben, kann man z.B. mit dem Parameter "-L" eine Verbindung zu einem anderen Proxy per SSH aufbauen.
ssh -D 3128 -fN user@server
(ssh -L 3128:proxyserver:3128 -fN user@proxyserver)
2.) SSH-Tunnel verwenden
Nun können wir einen neuen Proxy einstellen, unter Gnome …
System > Einstellungen > Netzwerk-Proxy
… als Socks-Rechner tragen wir nun "localhost" und den Port "3128" ein.