This blog post has been published on 2014-06-29 and may be out of date.
Mein Virtueller Server von Strato hat diese Woche erhebliche Probleme. Angefangen hat dies bereites letzte Woche, daher habe ich am 22.06.2014 eine Support-Anfrage mit der Bitte um Prüfung geschrieben, jedoch bisher nur die Antwort erhalten, dass ein überlastetet Hostsystem ggf. zu den Problemen führt und dass dies momentan geprüft wird.
– Server-"Load": > 10
– CPU-Auslastung : ~ 0%
– I/O-Auslastung: ~ 0%
——————————————
Reaktionszeit: 1/2 Min. für den SSH-Login  :-(
Daher kann es zwischenzeitlich auf dieser Webseite noch zu erheblichen Ladezeiten kommen, ich bitte dies zu entschuldigen. Wenn jemand einen guten Tipp für einen neuen Hoster hat oder andere Schlüsse aus den folgenden Screenshots ziehen kann, schreibt mir dies bitte per E-Mail "lars (at) moelleken.org" oder einfach direkt hier als Kommentar, vielen dank! Mfg Lars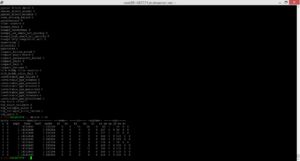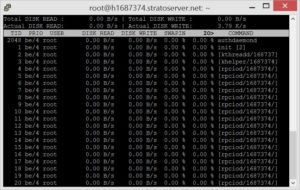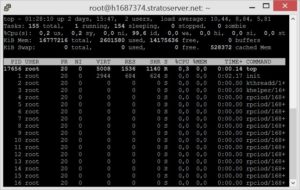 Falls jemand ebenfalls Performance-Probleme mit seinem Linux-Server hat, sollte man sich einmal folgenden aktualisierten Blog-Post anschauen:
-> Server-Analyse: http://suckup.de/linux/linux-server-analysieren/
UPDATE: 02.07.2014 15:59
Sehr geehrter Herr Moelleken,

ich möchte Sie mit dieser E-Mail über den Bearbeitungsstand Ihres Troubleticket informieren.

Sie hatten von Beeinträchtigungen bezüglich der Performance Ihres STRATO Virtual Server Linux berichtet.
Vorab bitte ich die Ihnen dadurch entstandenen Unannehmlichkeiten zu entschuldigen.

Erfreulicherweise kann ich Ihnen nun mitteilen, dass die Einschränkungen an Ihrem Server mittlerweile vollständig behoben wurden. Ihr Server ist damit wieder in vollständigem Umfang und mit gewohnter Performance zu erreichen.

Ich wünsche Ihnen weiterhin viel Erfolg mit Ihrem STRATO Server und stehe auch weiterhin bei Rückfragen für Sie bereit.