This blog post has been published on 2014-11-09 and may be out of date.
Auf der OpenRheinRuhr (Messe mit Kongress rund um das Thema "Freie Software") habe ich meinen ersten öffentlichen Vortrag gehalten. Dazu habe ich das Thema "Open Source Workflow für Webentwickler" gewählt und mit dem doch sehr einprägsamen Titel "DO EPIC SHIT!" angekündigt.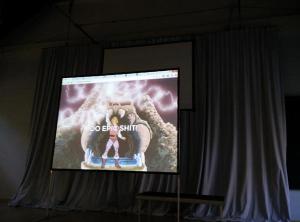 Gegen alle Erwartungen bin ich pünklich angekommen, auch wenn die Bahn (GDL) gestreikt hat. Also hatte ich noch etwas Zeit, um noch einen `git commit` vorzubereiten, welcher dann live in dem Vortrag automatisch via Jenkins getestet und deployed werden konnte.
Und auch wenn ich den Vortrag nicht so beenden konnte wie ursprünglich geplant, da ich die Zeit irgendwie falsch eingeteilt hatte, hoffe ich trotzdem einiges nützliches gezeigt zu haben. Beim nächsten mal sollte ich dies wohl vor "echtem" Publikum testen, da die Zeit dann anscheinend anders verläuft. ;) Einige Erklärungen und Beispiele von der Demo-Webseite musste ich daher unterschlagen und reiche diese Infos im folgenden nach:
Backend:
Frontend:
Extras:
PS: Ich werde heute wieder auf der OpenRheinRuhr sein, da auch das heutige Programm sehr interessante Vorträge und Workshops biete. z.B.: Docker, SaltStack, ImageMagick. Gegebenenfalls sieht man sich dort :) wünsche allen Beteiligten viel Spaß!