This blog post has been published on 2011-03-01 and may be out of date.
Durch die Kommentare auf einen alten Blog-Post "News im Internet suchen / filtern /finden" wo ich mich mit dem Google-Reader, Newsletter, Twitter… beschäftigt hatte, bin ich durch blog.posativ.org auf "Yahoo Pipes" gestoßen!
Am Anfang stelle ich erst einmal das Endergebnis vor, eine Zusammenfassung einiger Tech-Blogs:
IT-Blogger über Linux: http://pipes.yahoo.com/pipes/pipe.run?_id=f537df8f186dafe15ee88fa01ec110c2&_render=rss
1.) RSS-Feeds zusammensuchen
Unter meinen Quellen waren einige Feed aus meinem Google-Reader
Tipp: Unter ("Einstellungen" > "Reader-Einstellungen" > "Ordner und Tags") kannst du deine Ordner öffentlich machen. ;-)
-> IT-Blogger – IT-News – IT-Podcasts – Linux – Hacking – Politik – Lesenswert
Dann habe ich noch einige URLs aus meinen Twitter-Listen zusammenkopiert und schon hatte ich so viele Informationen, dass man Stunden benötigen würde, um die Webseiten einzeln zu besuchen und sich die neusten Infos zusammenzustellen.
-> IT-Blogger – IT-News – IT-Podcasts – Linux – Hacking – Politik – Lesenswert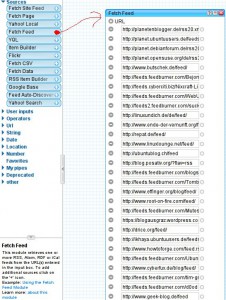 2.) RSS-Feeds filtern und sortieren
Auch wenn die Doku von "Yahoo Pipes" gut ist und es sogar einige Video-HowTo's gibt, ist das meiste selbsterklärend und man kann vieles einfach ausprobieren, da man zum einen eine Debug-Konsole erhält, wenn man auf ein Element kickt und zum anderen sich viele andere Beispiele finden lassen, wo man sich die Konfiguration anschauen & kopieren kann, um diese für seinen Zweck anzupassen. z.B.: http://pipes.yahoo.com/pipes/pipe.info?_id=f537df8f186dafe15ee88fa01ec110c2 -> View Source & Clone